Quick and Easy Mushroom Soup.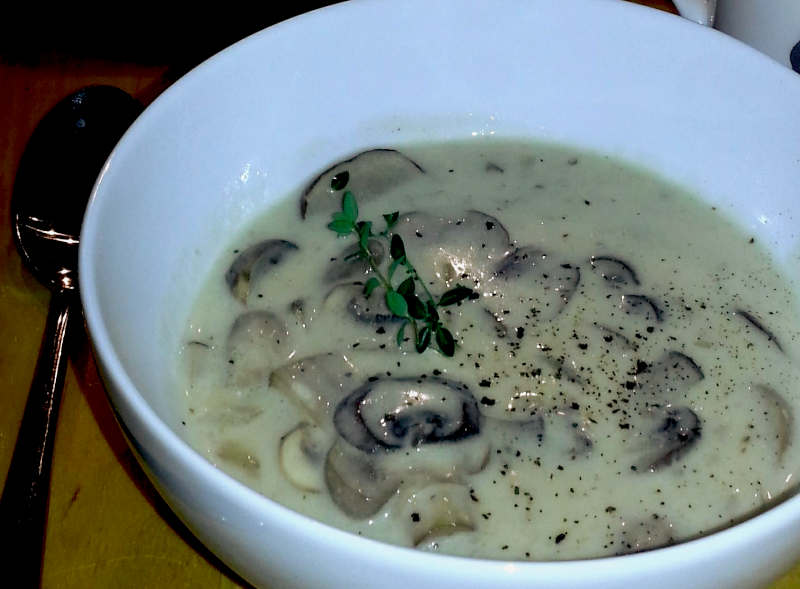 This mushroom soup recipe is sure to be a hit with your family and friends! Its creamy texture and earthy flavor make it an irresistible comfort food. It's also surprisingly easy to make, requiring just a few simple ingredients. To start, you'll need:
one pound of mushrooms of your choice
one medium onion
four cloves of garlic
two tablespoons of olive oil
two cups of vegetable stock
one cup of cream
salt
pepper
fresh parsley
Begin by washing the mushrooms and slicing them into thin slices. Next, dice the onion and garlic cloves into small pieces. Heat the olive oil in a large pot over medium-high heat and add in the diced onion and garlic. Sauté for about two minutes, stirring occasionally. Add in the mushrooms and cook for another five minutes, stirring occasionally until the mushrooms are lightly browned.
Once everything is browned nicely remove about 3/4 cup of the mushroom onion saute mixture and set aside.
Now pour in the vegetable stock and bring to a simmer. Cover with a lid and allow to simmer for around 15 minutes or until the mushrooms are cooked through. Then, add in the cream and stir to combine. Allow the soup to simmer for another 10 minutes.
Once cooked through, use an immersion blender or a regular blender (that can handle hot liquids) to blend the soup until it is smooth and creamy. Add in the 3/4 cup of mushrooms and onions you set aside to give the soup some texture Season with salt, pepper and chopped fresh parsley to taste. Serve hot with some crusty bread on the side!
This warm and comforting mushroom soup is sure to be a hit with your family and friends. Enjoy!
For added flavor, try adding some herbs like thyme or bay leaf to the pot while it simmers. You can also experiment with different types of mushrooms like shiitake or cremini for a more complex flavor. Enjoy!
Did you know…
Mushrooms are not only delicious but they are also incredibly nutritious. Just one cup of mushrooms provides a significant amount of essential vitamins and minerals, such as vitamin D, selenium, potassium, phosphorus, zinc and even B vitamins. They also contain protein and fiber as well as antioxidants that help keep your body healthy. Eating high-quality mushrooms can help you lower your risk of developing chronic diseases, such as heart disease and diabetes. Plus, they're naturally low in calories with very little fat or cholesterol.